Vertico is a frameless display case with an edge-to-edge glass face with radiused corners. Vertico has a unique sash-like proprietary opening mechanism facilitating the convenient display of posters or notices in high traffic areas. Vertico can be illuminated with LED technology.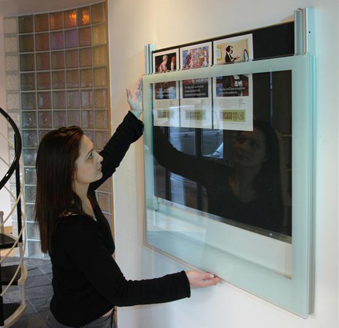 Description
Constructed from aluminum extrusions and glazed with 6mm, edge-to-edge tempered glass face. Features proprietary counterbalance sliding mechanism that enables convenient access in busy corridors.
Standard Model
Specify one of three interior mounting options: foam panel (poster attach by means of a low tack adhesive to a strip snug to the inside glass face), pin board (attachment using map pins or thumb tacks); magnetic (documents attach using disc magnets).
Illuminated Model
Illuminated version uses LED lamps. LED's have a 5-year life expectancy and uses only 20% the power required by fluorescent lamps.
Standard Sizes
A4 (8.3 x 11.7 inches)
A3 (11.7 x 16.5 inches)
A2 (16.5 x 23.4 inches)
A1 (23.4 x 33.1 inches)
A0 (33.1 x 46.8 inches)
Specify Landscape or Portrait Orientation
Finish
Silver anodized aluminum finish (standard). Powder coated paint finish (RAL) color selection at additional cost. Standard unit includes a silver back painted border.
Additional Options
Custom sizes, painted finish, key operated mini-lock
Suitable for interior applications only.